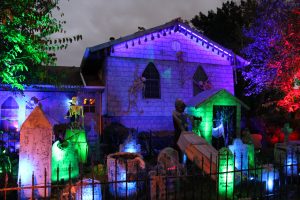 Q – Where do you store everything?
A – Why – Are you offering us storage space <grin>? We have off-site storage as well we store some items here.
Q – Do you do this type of work in your job?
A- No.  Neither of us do anything related to this in our jobs.  The skills used to create the props / decorations have been developed by pursuing our hobby. It would be immensely easier if we knew what we were doing!
Q – Why do you do this?
A – We do this for a number of reasons.  It is an outlet for our creativity, which we enjoy doing together.  We also have made some phenomenal friends and it is a way to get to meet and get to know people in our neighborhood.  We also, enjoy the memories we are helping create for the kids who visit our home.
Q – Do you accept donations?
A – We do this for our own enjoyment and ask for nothing more.  If you would like to contribute something, then we ask that you leave a non-perishable food item for the Food Pantry or a monetary donation for the Just Giants Animal Rescue.
Q – How long does it take to setup?
A – It takes about 200 hours to setup and then daily maintenance and tweaking throughout the rest of the season., not including time throughout the year making the props
Q – When do you start setting up?
A – We start setting up in late September.
Q – How long does it stay setup?
A – We will have most of it down on November 1st.
Q – When did you start doing this?
A – We started with a couple items in 2006 and it has grown since then.  The mausoleum with the ghost was one of our first props we made.
Q – From where do you get everything?
A – We make almost all the props displayed.
Q – Where do you come up with all your ideas?
A – There is a substantial amount of material available on the web.  Some good web sites to start with are:  You can certainly reach out to us as well.  There are no "Trade Secrets" and if we are able to assist, we will do are best to do so.
http://www.halloweenmonsterlist.info/
https://www.facebook.com/groups/hauntershangout/
Q – Have you won any awards?
A – We have won a several national awards within the Halloween enthusiast community.  We have won awards for Best Home Haunt and Best Animated Prop as well as the Judges Favorite in the inaugural Carol Stream Halloween Decorating contest in 2015.
Q – Do you do anything for Christmas?
A – Yes, we have been known to put up a string or two of lights……Actually, we turn our house into a Gingerbread House with Elves and Snowmen decorating trees and lights synced to music .
Q – Do you have a web page?
A – We do and we also have videos on YouTube under the user name jslanks and have a Facebook page for Canyon Trail Cemetery with photos.
http://canyontrailcemetery.com
http://www.facebook.com/CanyonTrailCemetery
http://www.youtube.com/user/jslanks
Q – Is it OK to take pictures?
A – As long as they are for non-commercial or non-derogatory use, feel free to take pictures.  We ask that you talk with us before taking pictures for commercial use.  If you post them to Social media, please tag us with #CTC2017.  We love to see what everyone posts!
Q – How can we contact you if we have a question?
A – Email us at info@canyontrailcemetery.com